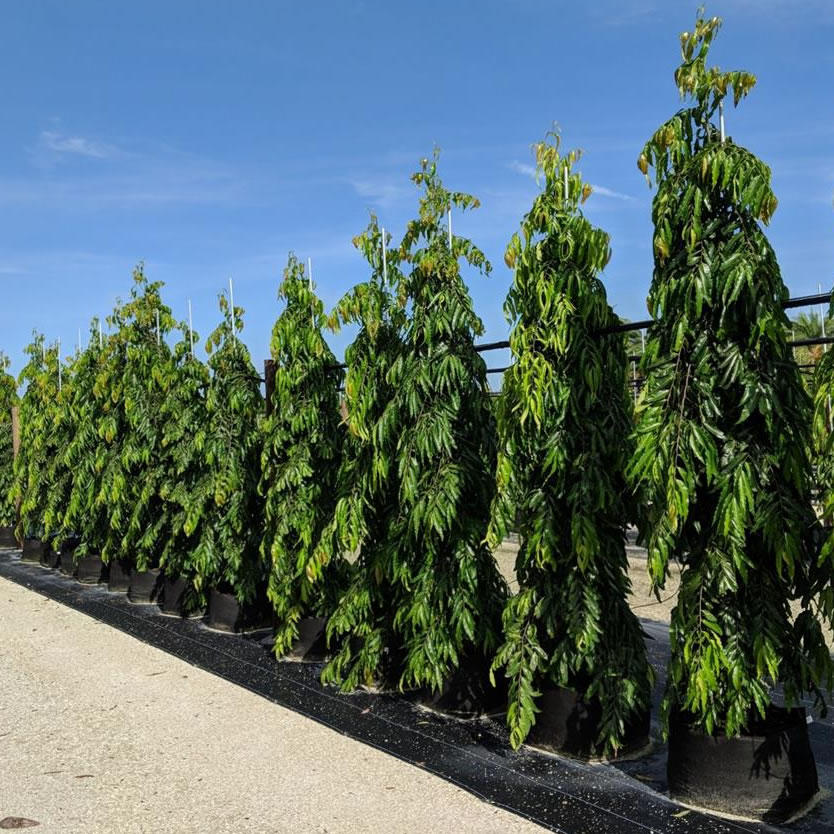 Mast Tree False Ashoka Install Price
Conocarpus erectus 'Sericeus'
Tree Size: 14-16 ft. - 45 Gallon container
Total Cost of Installation $895.00
Wholesale Price: $395*
Delivery, Labor, Supplies (planting soil, mulch, etc.): $500
Save Big, Discount Pricing for 2 or more trees. See all of our Field Grown Palm Trees Click Here.
*Removal of Existing Trees is a Separate Charge

*The current pricing is good for locations free and clear of underground obstacles like roots, stumps, rock, lines and pipes.
We do not sell trees individually. Installation only.
* Wholesale prices for trees may vary.  Please contact us for a firm quote. You can also call or text Herb (the owner) 239-287-7269

Mast Tree False Ashoka Install Price
A native of India and Sri Lanka, the Mast Tree is also known as False Ashoka, Buddha tree, Indian Mast tree, and Indian Fir tree. It became popular in British India for its resemblance t the Mediterranean Cypress and because the tall, straight trunk made it ideal for ship masts.
Mast trees are excellent tropical substitutes for the Italian Cypress and flourish in Florida's warm, humid climate. Mast trees have a moderate growth rate and do very well in confined areas reaching widths of 4 to 5 feet and heights from 30 to 45 feet. As evergreens, they have very little leaf drop, moderate salt tolerance, no pest issues of note, thrive in bright locations and tolerate partial shade. Our seeds were obtained from mast trees that handled mid to low 20's in the winter of 2009-2010. Mast trees are perfect screening plants for narrow, confined planting spaces because they grow quite tall but stay slender.
Use them as:
Architectural accents
Lining avenues or driveways
Living hedges
Privacy screens around pools
Privacy between houses
Noise reduction
Wind screens
The attention-getting Mast tree is quite new to Florida grower production but is destined to become a popular choice for Florida landscape architects, contractors, and designers.
The cost of planting Tropicals on your property may vary.  We only charge you the wholesale cost of the tree.  The Pricing includes the tree, cost of delivery, cost of labor to install the palm and sales tax.  Availability and pricing are subject to change.  All tropicals are purchased and delivered in pristine condition fresh from local south Florida Growers. Our tropicals are pest and disease free.  Regular hand watering or single tree emitter irrigation are required to keep your tree alive for the first year.
Lawn Irrigation and rainfall will not be sufficient for watering tropicals.  Your tropicals will require fertilization to maintain healthy growth.