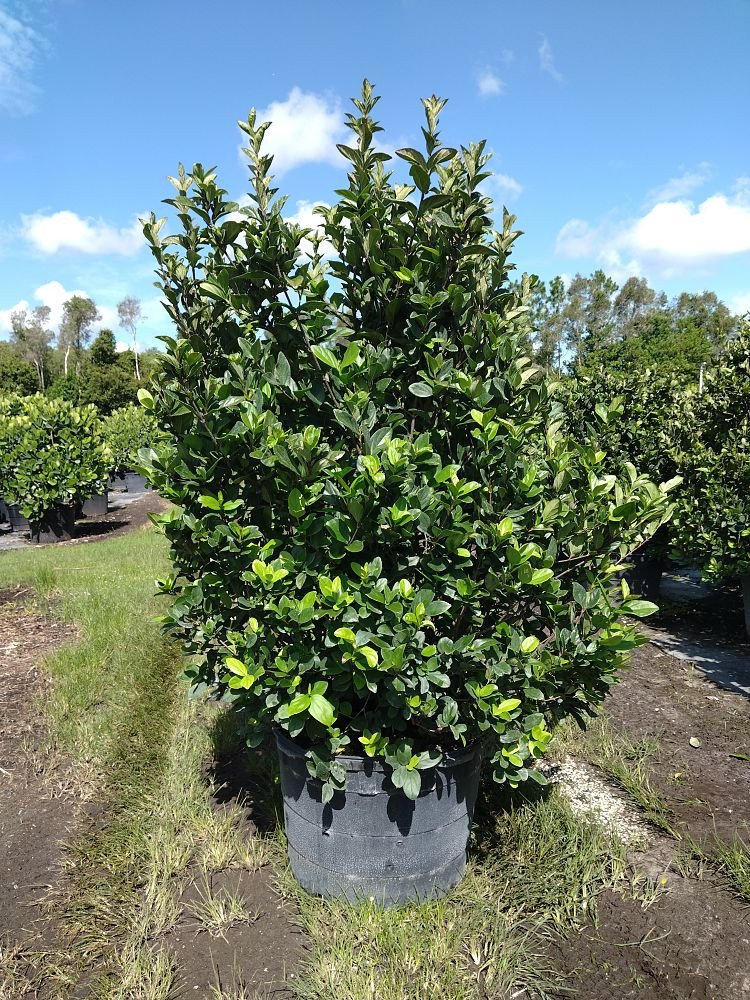 Sandankwa Viburnum
Viburnum suspensum
Tree Size: 5-6 ft.  25 Gallon
How Many Plants Needed for Privacy Screening?

1 Plant every 4ft. for instant coverage.

1 Plant every 5ft. quick coverage 1 year or less.

Quantity Discounts Available
5 plants or more $350 per  plant installed with a 5-6 ft. starting height.
10 plants or more $295 per  plant installed with a 5-6 ft. starting height.
20 Plants Installed at $275 per plant installed with a 5-6 ft. starting height.
* Wholesale prices for trees may vary.  Please contact us for a firm quote. You can also call or text Herb (the owner) 239-287-7269

 Sandankwa Viburnum Information
This evergreen viburnum is native to Okinawa and other Japanese islands. It is a popular landscaping shrub in Florida and other mild winter climates where it can grow up to 12 feet if left untrimmed. Pruning is recommended for shaping in spring and summer to limit fast-growing shoots. It thrives in moist, well-drained fertile soil in a wide range of daylight, from full sun to partial shade.
The cost of planting Tropicals on your property may vary.  We only charge you the wholesale cost of the tree.  The Pricing includes the tree, cost of delivery, cost of labor to install the palm and sales tax.  Availability and pricing are subject to change.  All tropicals are purchased and delivered in pristine condition fresh from local south Florida Growers. Our tropicals are pest and disease free.  Regular hand watering or single tree emitter irrigation are required to keep your tree alive for the first year.
Lawn Irrigation and rainfall will not be sufficient for watering tropicals.  Your tropicals will require fertilization to maintain healthy growth.