We worked with Herb Techmer and his crew at Naples Garden Landscaping to redo the landscaping in our front and back yards. Herb was... read moreWe worked with Herb Techmer and his crew at Naples Garden Landscaping to redo the landscaping in our front and back yards. Herb was great to work with. Very collaborative and accommodating. His work was first rate and his crew was amazing. They worked really hard to get our landscaping just right. We are so pleased with the end result that we immediately decided to hire them again for another landscaping project. I have worked with many contractors in Naples, and my experience with Herb was one of the very best. He is so reliable and pays so much attention to detail. His knowledge of plants is extensive. I HIGHLY recommend him for all things landscaping read less

Naples Garden Landscaping did an exceptional job with the landscaping at our vacation rental property. Herb chose absolutely beautiful plants specific for our space, was... read moreNaples Garden Landscaping did an exceptional job with the landscaping at our vacation rental property. Herb chose absolutely beautiful plants specific for our space, was quick to get us on the calendar, and his team was professional and efficient. We can't believe how amazing our landscaping turned out and wouldn't use anyone else in the future! Highly recommend Herb and his team! read less

Transforming our patio space Herb,
Thank you so much for the great work you did transforming our patio space. We love the new look and will enjoy if for years... read moreHerb,
Thank you so much for the great work you did transforming our patio space. We love the new look and will enjoy if for years to come! read less

We hired Herb and his crew to provide some privacy around our screened in lanai. Herb drew up a plan for us with a variety... read moreWe hired Herb and his crew to provide some privacy around our screened in lanai. Herb drew up a plan for us with a variety of plants. We had the option of making any changes we wanted and decided to keep everything he picked. The design addressed all of our privacy concerns and at the same time, made our backyard area look like a tropical oasis. We highly recommend Herb and his crew! read less

We are so pleased with the job Herb did for us. We needed privacy around our pool so he helped with suggestions that would work... read moreWe are so pleased with the job Herb did for us. We needed privacy around our pool so he helped with suggestions that would work well. When he delivered our palms and plantings we could not believe how healthy and beautiful they were. Herb, you are the BEST! Everything is beautiful and we love the privacy it will give us for years!! THANK YOU! read less

Ron & Irene Taliseskey

7/28/2020

We had a front yard makeover by Herb and we were extremely impressed with his work and professionalism. They were on time, considerate of our... read moreWe had a front yard makeover by Herb and we were extremely impressed with his work and professionalism. They were on time, considerate of our budget and answered any questions we had. The owner Herb, was always at our home supervising the entire project from start to finish. We had new palms, shrubs and flowering perennials installed along with landscape lighting. We love our yard and we received many compliments. Herb and his team are very personable, they really make sure you are happy with your project. read less

I worked with Herb and his crew to refresh my lanai area. I couldn't be more pleased with the results. I had help each... read moreI worked with Herb and his crew to refresh my lanai area. I couldn't be more pleased with the results. I had help each step of the way ( with decision making, and installation). Everyone was helpful and professional and my patio has been transformed into something lovely! read less

Herb and Team were great to work with; they listened to what I wanted and came up with great ideas and a well executed plan.... read moreHerb and Team were great to work with; they listened to what I wanted and came up with great ideas and a well executed plan. My backyard turned out so well I hired them to do the front yard too, also with excellent results. Herb is an honest business man and I trust him completely. read less

Herb Techmer and team just finished a beautiful bluestone patio for us. I can't say enough about the beautiful work they do as well... read moreHerb Techmer and team just finished a beautiful bluestone patio for us. I can't say enough about the beautiful work they do as well as their professionalism. Herb communicates throughout the process, lending his extensive experience to guide the design process and decision making. He offered various options at various costs and delivered to his commitments. I recommend Naples Garden Landscaping without reservation. Thanks Techmers! read less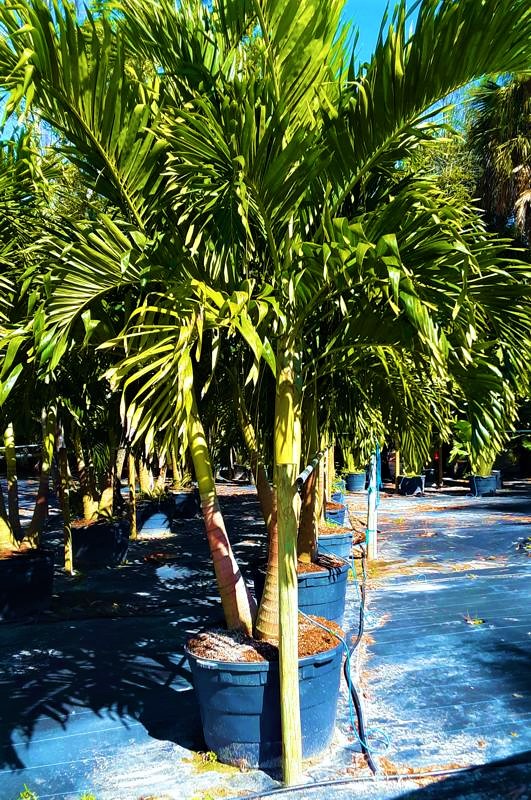 Adonia Christmas Palm
Veitchia merrillii
Tree Size: 8-10 ft. 45 Gallon Multi Trunk
Total Cost of Installation $695.00
Wholesale Price: $300*
Delivery, Labor, Supplies (planting soil, mulch, etc.): $395
Total cost of plant & installation: $695*
Weight of Single Tree 250-350 lbs.
* Wholesale prices for trees may vary.  Please contact us for a firm quote. You can also call or text Herb (the owner) 239-287-7269

The cost of planting  on your property may vary.  We only charge you the wholesale nursery price of the plants.  The Pricing includes the plant, cost of delivery, and cost of labor to install the plant.  Availability and pricing are subject to change.  All plants are purchased and delivered in pristine condition fresh from local south Florida Growers. Our plants are pest and disease free.  Regular hand watering or single tree emitter irrigation are required to keep your plants alive for the first year.
Lawn Irrigation and rainfall will not be sufficient for watering.  Your palm trees will require fertilization to maintain healthy growth.